A formula for creative success
By Ernie Perez, Associate Creative Director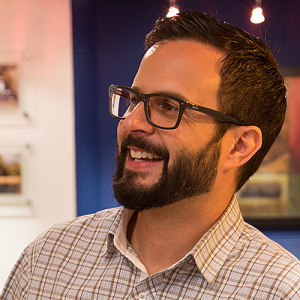 Being in this industry for more than 20 years has taught me something very valuable. There is a simple equation that leads to my happiness. 
Every young creative's dream is to have that Super Bowl spot under their belt. While that's a great achievement, our job as creatives is the same regardless of the size of the account or the platform where it unfolds. Once you realize that our job is to find a simple solution to a complex challenge, the magic happens. 
For me, that formula starts with immersing myself in our client partner's challenge. Acquiring a complete understanding of the product/service is, in my opinion, the most important thing you can do. It helps you develop tactics that may seem out of the norm yet prove to be an effective way of achieving the end goal. 
Secondly, I add my passion and energy to every project I touch. I find that the client's success contributes to my own. We can have fun creating for any partner, large or small. Knowing my ideas helped a company rise in the ranks in their market is just as gratifying to me as having a national spot. Embracing a team attitude has proven to be very beneficial to me over the years. 
Regardless of the type of business, it's always exciting to see the metrics prove that your work was not only creative but, most importantly, effective. Once you discover and master your own formula, you'll reap the rewards of an inspired and successful creative process.  
So, that sums up my equation. Mine may only work for me. I urge you to find your own. At the end of the day, what you add to a project ultimately equals what you get out of it.
---
Recent News